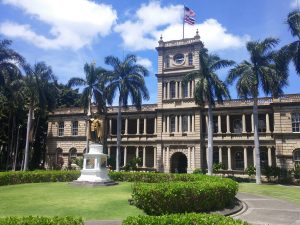 Historic Downtown Honolulu walking tour
Honolulu is an amazing place to visit with Waikiki and its wide variety of of things to do as its central location. Many visitors don't take the time to visit our Downtown Honolulu area and view the many beautiful historic buildings and statues. Downtown Honolulu is approximately three to four miles from the Waikiki area and can easily be accessed by one of the many city buses that leaves Waikiki every 10 to 15 minutes. Only a short 20 minute bus ride to the downtown area, these amazing historic buildings bring you back to a time when Kings and Queens ruled these Islands. Starting in the downtown area around Bishop Street you can walk 2-3 blocks in either direction and take a walking tour around the downtown area to view these beautiful attractions. On King Street near the State Capitol you'll find Iolani Palace where the king and the queen of that time resided up until the early 1900's. Across the street from Iolani Palace is one of the best known statues of King Kamehameha. This is also better known for it's aerial shots of the headquarters in the new TV series Hawaii Five-O.
So on your next visit to Hawaii make sure you take the time to come to the downtown area and spend 2 or 3 hours visiting the past, it is definitely worth the time and it will be a highlight to your visit on this beautiful island of Oahu.