Are you ready to embark on an unforgettable adventure, exploring the breathtaking underwater world of Hanauma Bay? Dive into this comprehensive guide that covers everything you need to know about Hanauma Bay reservations, from the essential guide to this unique nature preserve to transportation options, accessibility features, and more. Let's make your trip to Hanauma Bay a memorable experience that will leave you with a lasting appreciation for Hawaii's pristine marine ecosystems.
Short Summary
Hanauma Bay Nature Preserve requires visitors to make Hanauma Bay Reservations in advance and follow safety rules for its preservation.
Alternative transportation options, such as public transportation or tour operators, are available to help reach Hanauma Bay with ease.
Admission fees are $25 per person. Parking fee is $3 for visitors and $1 for locals. Reef-friendly sunscreen is essential for the protection of marine animals and coral reefs.
Essential Guide to Hanauma Bay Nature Preserve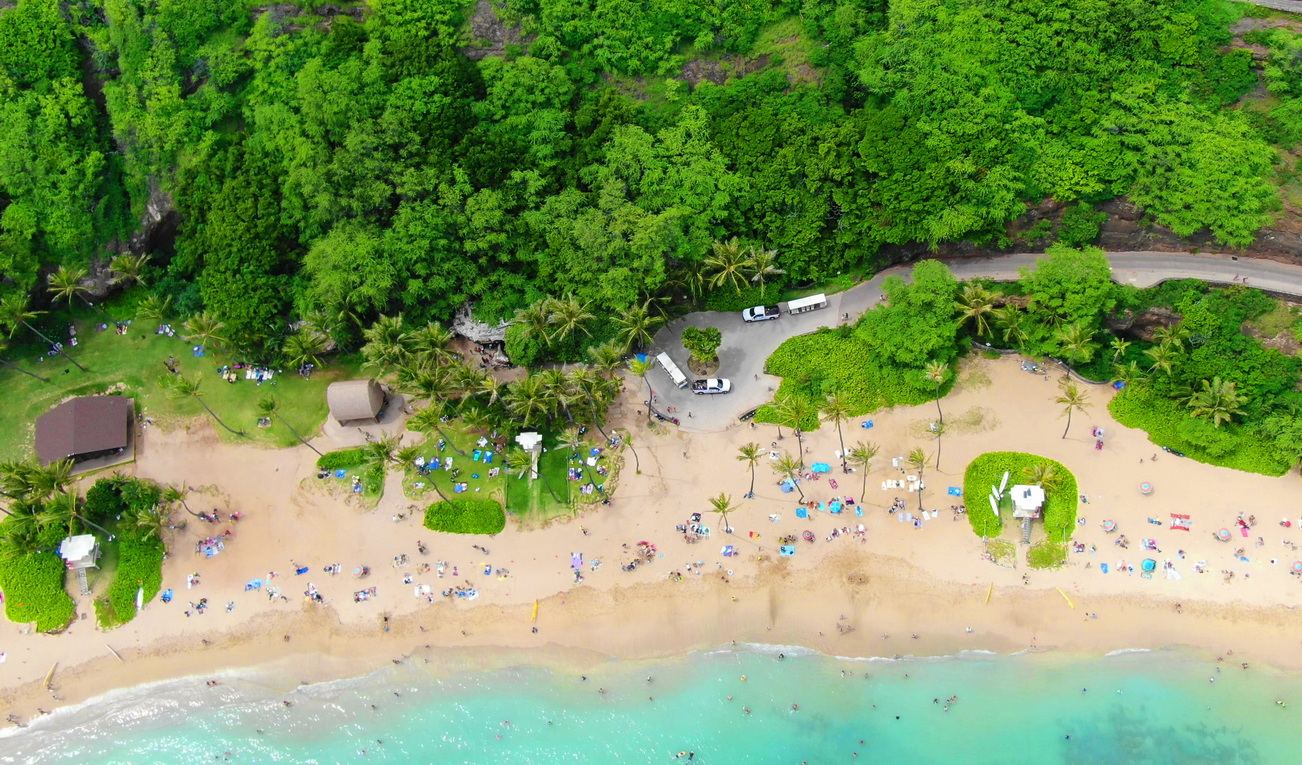 Nestled on the southeastern coast island of Oahu, Hanauma Bay Nature Preserve is a must-visit destination for snorkeling enthusiasts and nature lovers alike. This stunning location boasts a pristine marine ecosystem, teeming with tropical fish and vibrant shallow coral reefs. Just a stone's throw from the bustling Waikiki Beach, Hanauma Bay offers a serene escape where you can witness the beauty of more than 300 species of tropical fish, all in their natural habitat.
However, with great beauty comes great responsibility. The importance of preservation cannot be overstated when it comes to Hanauma Bay. In order to protect this precious natural wonder, visitors are required to follow safety rules, watch an educational video, and make a reservation in advance before embarking on their snorkeling adventure.
Visiting Hanauma Bay
Hanauma Bay is located in the east of Oahu, Hawaii. It is roughly 10 miles away from Waikiki. To make the most of your visit, it's crucial to arrive early, as parking spaces are limited and the bay's popularity means they fill up quickly.
Don't miss out on the opportunity to explore this incredible marine paradise; plan your visit accordingly and ensure that you reach the ticket window in time for your reservation.
Importance of Preservation
Hanauma Bay's delicate ecosystem faces various environmental threats, such as oxybenzone contamination from sunscreen pollution and human disturbance, which can lead to coral breakage and the loss of entire coral colonies. This is why it's essential for visitors to understand and value the importance of protecting these marine animals and this picturesque location.
The educational video presented before you access the beach plays a crucial role in raising awareness about the need for preservation and responsible tourism.
Booking Your Hanauma Bay Reservation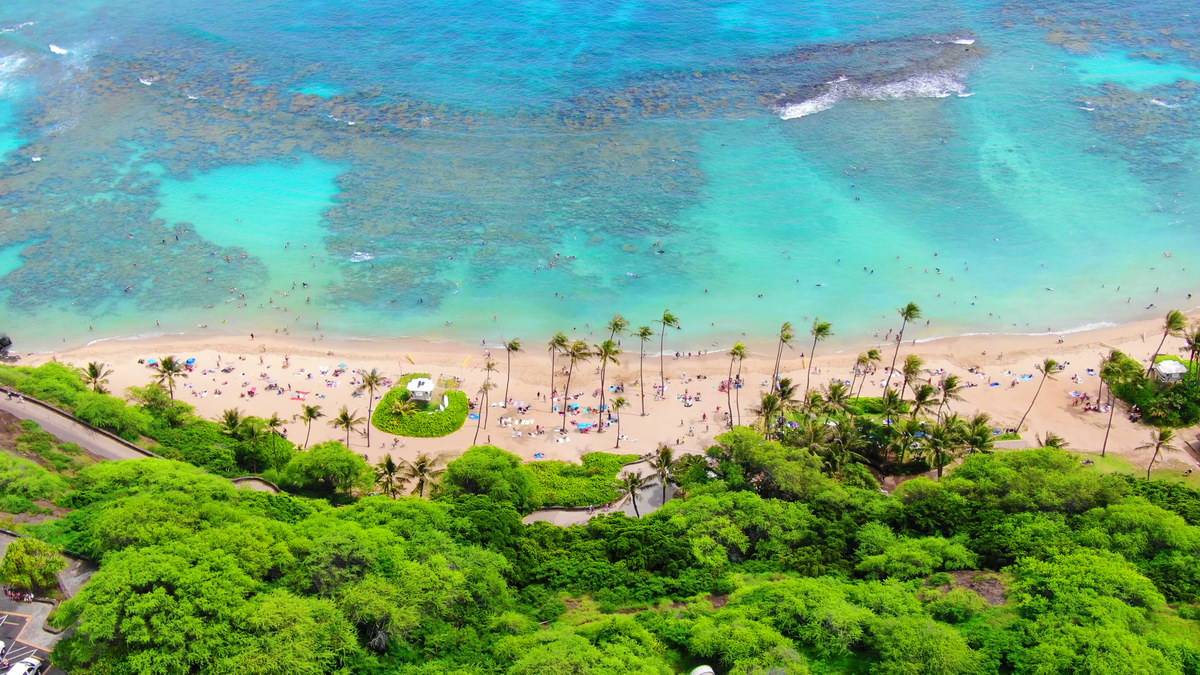 Securing a reservation in advance is a must for anyone planning to visit Hanauma Bay, as it is required for all visitors, regardless of whether they plan to snorkel or simply enjoy the beach. Reservations can be made online through the Honolulu department of Parks and Recreation website, or through tour operators offering packages to Hanauma Bay. Failing to make a reservation means you'll miss out on the chance to experience the wonders of Hanauma Bay, so it's essential to plan ahead.
Not sure how to make a reservation? Don't worry; the online reservation system is easy to use and allows you to book your visit up to two days in advance, starting at 7:00 a.m. HST. Keep in mind that tickets are in high demand, so it's advised to book promptly at 7:00 a.m. to secure your spot. Once you've completed the reservation process, you'll receive an email confirmation.
Driving Yourself vs Hanauma Bay Transportation Package
When planning your trip to Hanauma Bay, you have two main options for transportation: driving yourself or reserving a transportation package. Each option has its pros and cons. Self-driving offers more flexibility and control over your itinerary, allowing you to leave whenever you please. However, driving yourself means you'll need to deal with parking and traffic, as well as the cost of gas.
On the other hand, reserving a transportation package can be more convenient and less stressful, as you won't need to worry about parking fee or transportation logistics. This option may also be more cost-effective, depending on the package and your individual needs.
Ultimately, the choice between driving yourself and booking a transportation package comes down to your personal preferences and priorities.
Online Reservation System
As mentioned earlier, reservations are mandatory for all visitors to Hanauma Bay, whether they plan to enter the water or not. The online system makes it simple to book your visit, with reservations available up to two days in advance, starting at 7:00 a.m. HST. Due to the high demand for tickets, it's important to book your reservation as soon as possible to avoid disappointment.
Once you've made your reservation, you'll receive a confirmation email detailing the date and time of your visit. Be sure to keep this email, as you'll need to present it along with a valid photo identification at the ticket window upon arrival. Remember that all sales are final. No cancellations and tickets are non refundable and non transferable.
Reservation Confirmation
After you've completed your reservation, you'll receive an email confirmation that includes all the necessary information, such as the date, time, and details of your visit. It's important to arrive early and present this email along with a valid photo ID matching the name on the reservation at the ticket window.
Transportation and Parking Options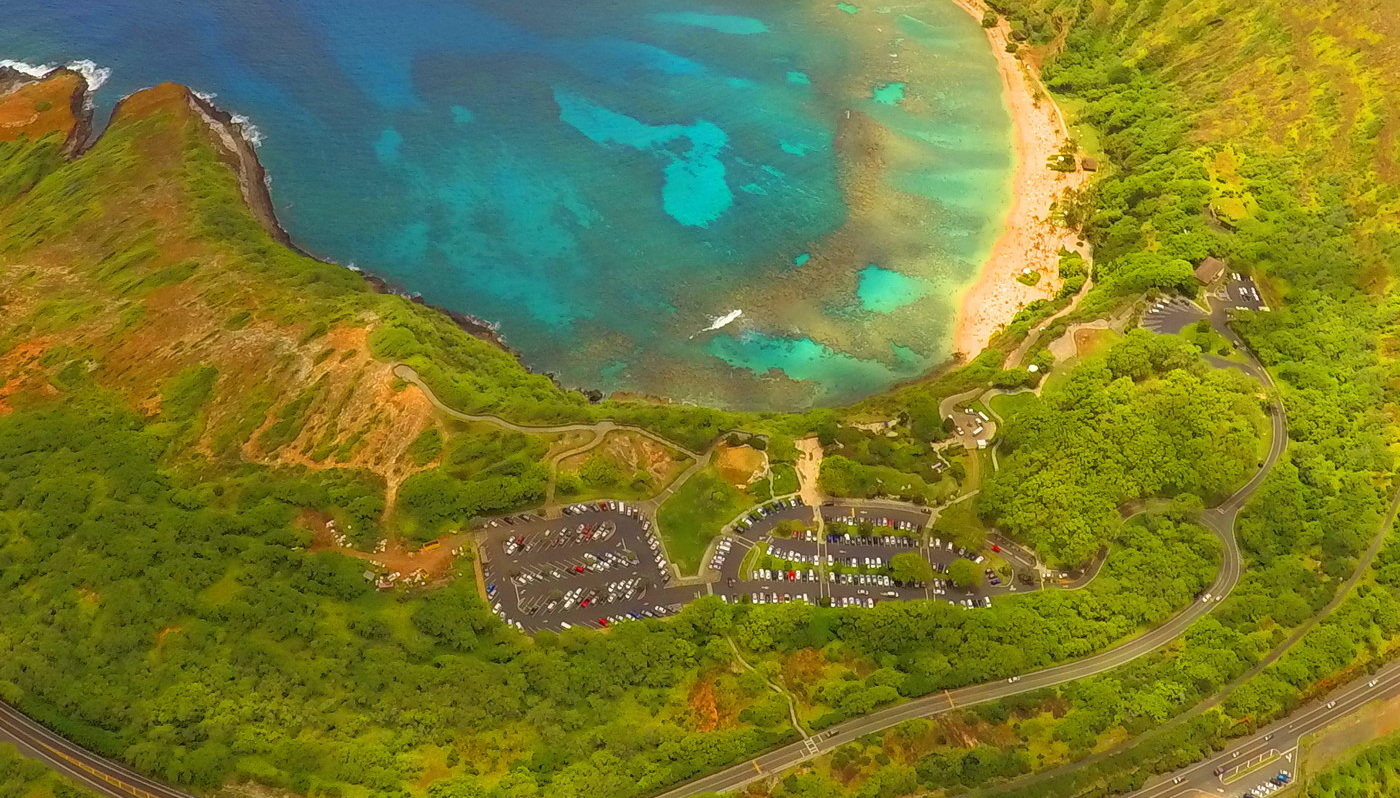 There are several transportation options available to help you reach Hanauma Bay, including public transportation, tour operators, and a parking lot with a $3 fee. Given that parking spaces are limited and can fill up quickly, it's highly recommended to consider alternative transportation options, such as taking "TheBus" (Oahu's public transportation system), utilizing services like Uber or Lyft, or booking a tour operator package to take the stress out of your journey.
By opting for alternative transportation, you can sit back, relax, and enjoy the stunning views as you make your way to Hanauma Bay. Plus, you won't have to worry about finding a parking spot or dealing with traffic, leaving you more time and energy to focus on the real reason for your visit: exploring the incredible marine life and natural beauty of Hanauma Bay.
Public Transportation
In Honolulu, using ride-hailing services like Uber or Lyft can be an excellent choice for tourists looking to travel from the bustling Waikiki area to the serene Hanauma Bay Nature Preserve.
Ride-hailing services offer a hassle-free experience and an easy-to-understand pricing structure based on distance traveled and time taken. For instance, traveling from Waikiki to Hanauma Bay Nature Preserve, which is approximately 11 miles away, could cost around $30-$40 during off-peak times. However, during peak hours or times of high demand, the price may surge to around $50-$60.
Keep in mind that the journey from Waikiki to Hanauma Bay Nature Preserve takes about 30 minutes, depending on traffic. This scenic drive offers stunning views of Oahu's coastline and the opportunity to witness the island's natural beauty. So sit back, relax, and enjoy the ride as you venture from the vibrant Waikiki area to the tranquil paradise of Hanauma Bay Nature Preserve.
Tour Operators
Several tour operators are available to help you visit Hanauma Bay, such as Hanauma Bay Tours. These operators offer a range of services, from guided tours of the bay and snorkeling lessons to private boat tours and equipment rentals.
By opting for a tour operator, you can enjoy a hassle-free experience and focus on making the most of your time at Hanauma Bay. For more information or to book a tour, you can contact the respective tour operators directly.
Parking Tips
If you decide to drive yourself to Hanauma Bay, it's important to keep in mind that parking spaces are limited and fill up quickly. Arriving early is crucial in order to secure a parking spot.
The parking fee at Hanauma Bay is $3.00, which applies to both residents and non-residents alike. Make sure to factor in the cost and availability of parking when planning your visit, and consider utilizing alternative transportation options if necessary.
Hanauma Bay Hours and Fees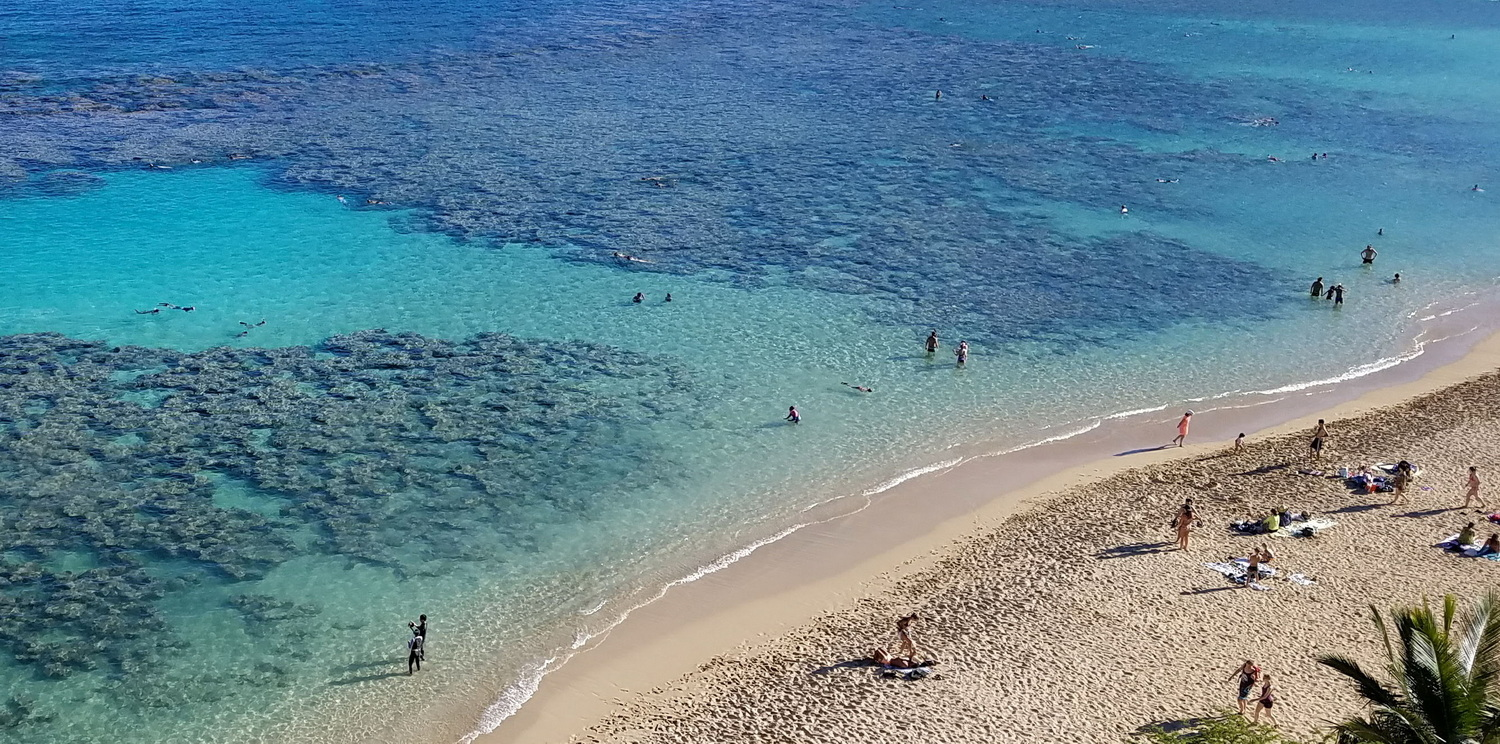 Hanauma Bay is open to the public from Wednesday to Sunday, with Hanauma Bay hours of operation from 6:45 a.m. to 1:30 p.m., and mandatory exit by 4:00 p.m. Admission is not permitted after 2:00 p.m., so it's important to plan your visit accordingly. The beach must be vacated by 3:30 p.m., ensuring that the delicate ecosystem is protected and preserved for future generations to enjoy.
Admission fees apply for visiting Hanauma Bay. Adults are charged $25.00 per person, while children aged 12 and under enjoy free admission. Active duty Oahu military personnel and local residents with a valid state ID are also exempt from payment, making Hanauma Bay accessible to a wide range of visitors.
Open Wednesdays through Sundays
Hanauma Bay is open to the public from Wednesday through Sunday, with operating hours starting at 6:45 a.m. and the last entry at 1:40 p.m. The daily visitor capacity is limited to 1,400 people, ensuring that the bay's delicate ecosystem remains protected and preserved.
Plan your visit accordingly and make sure to arrive within the designated hours of operation to fully enjoy the beauty and tranquility of Hanauma Bay.
Admission Fees
Visiting Hanauma Bay comes with an admission fee of $25 per person for a single-day visit, which helps support the preservation and maintenance of this unique nature preserve. Children aged 12 and below are admitted free of charge, making it an affordable family-friendly destination.
Additionally, active duty Oahu military personnel and local residents with a valid state ID are also exempt from the admission fee, ensuring that Hanauma Bay remains accessible to a wide range of visitors.
Snorkel Gear Rental at Hanauma Bay
If you don't have your own snorkel gear, don't worry – Hanauma Bay offers snorkel gear rental on-site, including a mask, snorkel, and fins. The rental price for an adult snorkeler is $50.99, making it easy and convenient to explore the bay's stunning underwater world without the need to bring your own equipment.
Simply rent the gear, dive in, and discover the incredible marine life that calls Hanauma Bay home.
Using Reef-Friendly Sunscreen
When visiting Hanauma Bay, it's essential to use reef-friendly sunscreen to protect the delicate coral reefs. Reef-friendly sunscreen is free of harmful chemicals and small particles that can damage and potentially kill coral reefs in the oceans. It typically contains only mineral UV-blocking ingredients such as zinc oxide and titanium dioxide.
By choosing reef-friendly sunscreen, you're playing your part in ensuring that Hanauma Bay's pristine marine ecosystem remains healthy and vibrant for generations to come.
Marine Education Center and Activities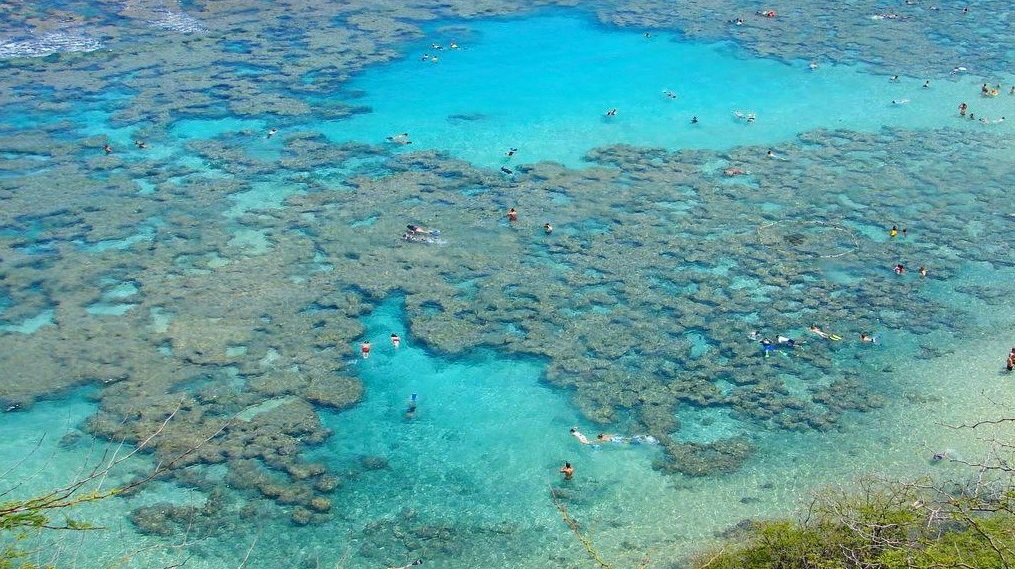 The Marine Education Center at Hanauma Bay is a fantastic resource for visitors, providing educational content about the bay's shallow coral reefs and rich marine life, as well as information on the history and lifestyles of various marine species. In addition, the center offers marine and conservation-related evening presentations to the public, giving you the opportunity to learn even more about the importance of marine resources and reef etiquette.
Besides the educational offerings, Hanauma Bay also features a snack bar near the entrance to the park, offering a selection of lunch options for visitors. Furthermore, a gift shop is available, providing souvenirs and other items related to the marine life and environment of Hanauma Bay. Don't forget to grab a keepsake to remember your incredible experience exploring this unique marine sanctuary.
Shallow Coral Reefs
Hanauma. Bay's remarkable coral reef is home to over 450 varieties of fish and a comprehensive coral reef system, making it a haven for marine life and a must-see destination for snorkelers. The bay's coral reef system includes various species of coral, such as brain coral, staghorn coral, and elkhorn coral.
Preserving these coral reefs is vital for maintaining the wellbeing of the the overall health of Hanauma Bay. As you snorkel through the crystal-clear waters, take a moment to appreciate the incredible biodiversity and the importance of conserving this unique underwater world.
Marine Life at Hanauma Bay
At Hanauma Bay, you'll have the chance to encounter a wide variety of marine life, from sea green turtles and humuhumunukunukuapua'a reef triggerfish to corals, octopuses, eels, and thousands of other fascinating creatures. The diverse array of marine life makes Hanauma Bay a snorkeler's paradise, offering an immersive experience that allows you to witness these incredible species up close in their natural habitat.
As you explore the bay's underwater world, remember to follow safety guidelines and practice reef etiquette to ensure the continued protection of this pristine marine ecosystem.
Snack Bar and Lunch Options
After an exhilarating morning of snorkeling and exploring Hanauma Bay, you might find yourself in need of some sustenance. Fortunately, the on site snack bar located near the entrance to the park offers a variety of tasty lunch options, including sandwiches, salads, and snacks.
Please note that the snack bar is not located on the beach itself, so plan accordingly and make sure to grab a bite before or after your visit to the bay.
Gift Shop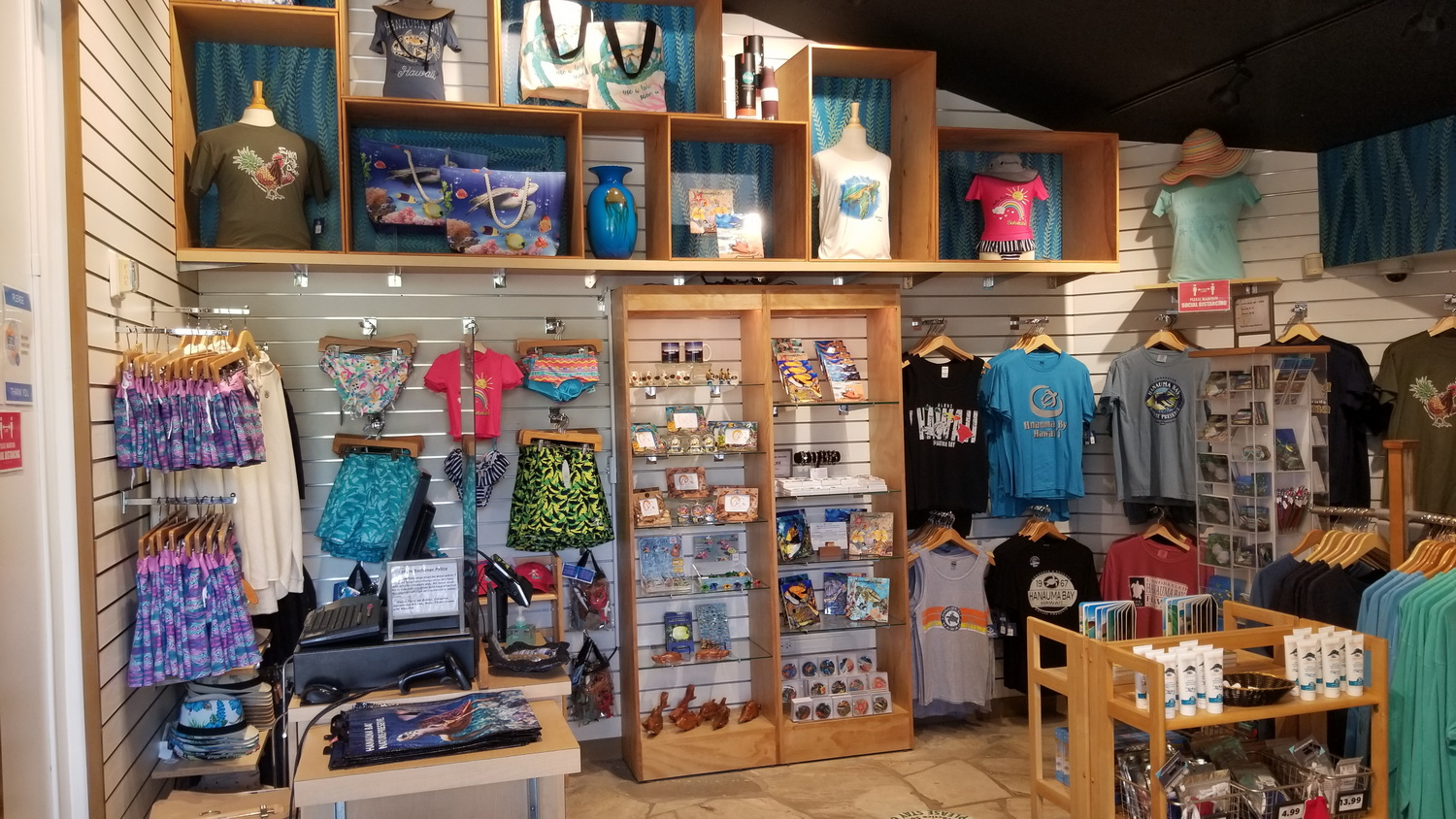 Don't forget to stop by the gift shop at the entrance of Hanauma Bay Nature Preserve to pick up a souvenir or two to commemorate your visit. The shop offers a range of items related to marine life and Hawaii, such as T-shirts, coffee cups, hats, bags, postcards, and more.
In addition to souvenirs, the gift shop also provides snacks and beverages, so you can stock up on refreshments before or after your snorkeling adventure.
Accessibility Features at Hanauma Bay
Ensuring that all visitors can enjoy the beauty of Hanauma Bay is a top priority, which is why the bay offers a range of accessibility features to accommodate different needs. These include free standard wheelchairs, a wheelchair-friendly tram to transport visitors between the upper and lower levels, a closed caption theater for the hearing impaired, and accessible facilities.
By offering these accessibility features, Hanauma Bay aims to provide an inclusive and welcoming environment for everyone, regardless of their physical abilities or limitations. So whether you're a seasoned snorkeler or a first-time visitor, rest assured that Hanauma Bay is equipped to accommodate your needs, allowing you to fully experience the wonders of this unique marine sanctuary.
Wheelchair Access
Hanauma. Bay offers wheelchair accessibility, ensuring that all visitors can enjoy the beauty of the bay. Free beach wheelchairs are available, making it easy for individuals with mobility challenges to access the beach and explore the bay's stunning marine life.
Additionally, the tram service between the upper and lower levels is wheelchair-friendly and now included in the entry fee, providing a convenient transportation option for visitors with limited mobility.
Closed Caption Theater and Facilities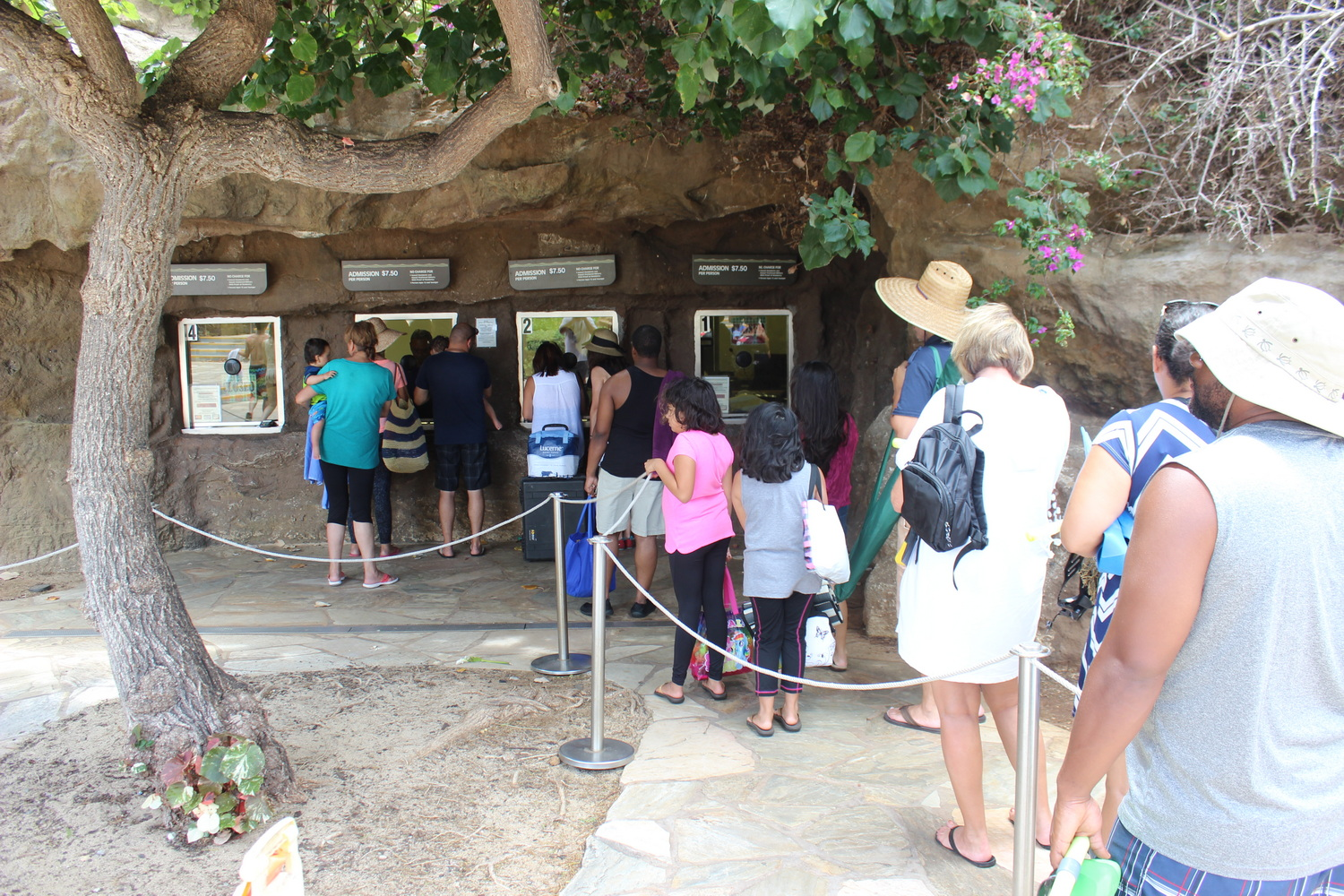 For visitors who are deaf or hard of hearing, Hanauma Bay offers a closed caption theater that provides access to closed captions on a separate screen. This ensures that all visitors are able to enjoy and benefit from the educational content provided at the Marine Education Center, regardless of their hearing abilities.
With these accessible features in place, Hanauma Bay aims to create an inclusive environment that caters to the diverse needs of its visitors.
Summary
In conclusion, Hanauma Bay is a must-visit destination for anyone looking to experience the natural wonders of Hawaii's marine life. With its stunning coral reefs, diverse marine life, and commitment to preservation and accessibility, Hanauma Bay offers an unforgettable adventure for visitors of all ages and abilities. By planning your visit, making a reservation, and following the advice provided in this comprehensive guide, you'll be well-prepared to make the most of your time at Hanauma Bay. So pack your sunscreen, grab your snorkel gear, and get ready to dive into a world of beauty and wonder beneath the waves.
Frequently Asked Questions
Can I go to Hanauma Bay without a reservation?
I'm sorry, but it is not possible to visit Hanauma Bay without a reservation. Advanced reservations are necessary due to the high number of people who want to enjoy the scenic marine life sanctuary on Oahu's southeastern shores.
How far in advance can you make Hanauma Bay reservations?
You can make your Hanauma Bay reservations two days before. It's possible to book tickets online two days in advance starting from 7:00am (Hawaii Standard Time). Tickets usually sell out quickly so it's best to get them as early as possible. Make sure you have an ID to present upon arrival. The transportation package from Waikiki beach to Hanauma Bay can be booked in advance but has limited seating with pickups starting at 6:00 a.m. from Waikiki.
What day is Hanauma Bay closed?
Hanauma Bay is open from Wednesday to Sunday, with entry allowed from 6:45 a.m. until 1:30 p.m. Monday and Tuesday are closed days when the bay is not accessible to visitors, allowing the reef and ecosystem to rest free of human interference.